Classic Racing
---
Classic racing: driving engine development
While attending his first-ever classic sidecar race meeting in 2010, Richard fell into conversation with Jon Perkins who was making a return to racing with a very neatly engineered outfit, which included a neat chain conversion enabling quick and easy changes to gear ratios. With no chance of success in the CRMC Championship, a newly-blown motor and living not far from Northampton, this seemed an ideal machine on which to base future Moorespeed engine development.
And so it proved. By season's end the engine power had literally doubled thanks to the full range of Moorespeed tuning items plus a few additional development mods, and in 2011 Jon, with his passenger Nancy Detournay, dominated the CRMC Period 3 championship.
As a test-bed for future engine development, sidecar racing has proved ideal: the extra torque required to haul a sidecar with passenger has led Richard to introduce new cam profiles, develop digital ignition and build a bigger-bore engine (in addition to designing an all-new piston for a short-stroke 750 engine). The Moorespeed heavy-duty clutch is another direct result of the race programme, and there's more to come...
And of course, racing is a great test of reliability. Not only have Moorespeed engines achieved a 100% reliability record since entering sidecar racing, experience has shown that at the end of the season, just regular maintenance has been required – no major rebuilds.
---
New 750cc engine
With Matt Kingsmill wanting to contest the 750cc class in the 2011 season, the immediate problem was the lack of a suitable engine. This class has relatively little support in the UK, and Richard had no experience to fall back-on in terms of engine development. So, he took the bold decision to create a short-stroke engine, using a new 88mm piston based largely on his now well-proven 1000cc design, but with a few updates – and ordered a short production run from Omega. He then machined new liners for a pair of 800cc barrels and had them Nikasil plated. Gas flowed heads, a new cam shaft, and digital ignition were then added to the mix.
Working to a tight deadline, Richard set the engine up very conservatively, and put it on the dyno just a week before its first race. It revved very easily (to 10,000rpm!) with a totally different engine note from the bigger-bore engines – and delivered a very healthy 75bhp at the rear wheel. That's about 10bhp more than the class average, which was swiftly borne-out on track...
In this class, the man to beat is Bill Hodgkins with his passenger Bert Vloemans and their Norton Commando powered outfit – and on that very first outing the Moorespeed finished ahead no less than four times, before going on to complete the season unbeaten.
---
2011 Classic Racing Motorcycle Club Period 3 Sidecars (Unlimited)
1st place: Jon Perkins/Nancy Detournay
Never finishing lower than second, Jon and Nancy dominated the CRMC Class 3 championship, eventually ending the season with a total of 605 points scored – 145 clear of the second-placed team.
2011 Classic Racing Motorcycle Club Period 2 Sidecars (750cc)
1st place: Matt Kingsmill/Alan Bedford
Having won the Unlimited class in 2010, Matt and Alan decided to contest the 750cc class this season – and won every single race they entered, often finishing ahead of Unlimited class competitors. On their vey first outing (July - Brands Hatch), they shaved a full 2.5 seconds off the lap record.
2011 Belgian Classic Event: Chimay
Unlimited class: 1st place: Colin Lewis/Ian Nickels
750cc class: 1st place: Matt Kingsmill/Alan Bedford
The only downer of the season for Jon, Nancy and the Moorespeed team was at this event. They qualified in second place of the Unlimited class – a fraction of a second behind the leader – but in the first race a 'racing incident' resulted in a broken ankle and leg injuries for Nancy, and a ground-down thumb for Jon. Fortunately, the outfit wasn't too badly damaged, and as fellow Brits Colin Lewis and Ian Nickels had blown up no less than three Weslake engines that weekend (!), they were offered the chance to ride Jon's machine in the second race. Despite the BMW being totally different to the one they normally race, they finished first – 10 seconds ahead of the next finisher.
Meanwhile, Matt and Alan decimated the 750cc opposition with two wins – winning by 23 seconds and 12 seconds respectively.
2010 Classic Racing Motorcycle Club Period 3 Sidecars (Unlimited)
1st place: Matt Kingsmill/Alan Bedford
As detailed under the 'Projects' tab, Matt won this event after switching to Moorespeed power half way through the season, overcoming a 50 point deficit.
---
2012 Moorespeed-powered Race Teams
CRM Classic Unlimited Group 2 (solo): John Lovett (980cc)
CRMC Period 1 Sidecars: Dave Crawford/Dave Baxter (short stroke 750cc)
CRMC Period 1 Sidecars: Steve Reilly/Byron Reilly (standard stroke 750cc)
CRMC Period 1 Sidecars: Terry Foxon/Roy Cuningham (short stroke 750cc)
CRMC Period 3 Sidecars: Simon Smith/Dave Gristwood (980cc)
CRMC Period 3 Sidecars: Jon Perkins/Nancy Detournay (1040cc)
CRMC Period 3 Sidecars: Matt Kingsmill/Alan Bedford (1040cc)
Jon Perkins and Nancy Detourney
John Lovett
David Crawford and David Baxter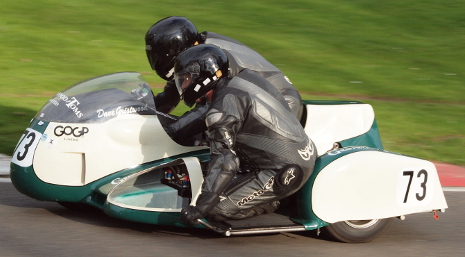 Simon Smith and Dave Gristwood
Steve and Byron Reilly