Classic Racing
Back in 2010, Richard was invited to attend a meeting organised by the Classic Motorcycle Racing Club (CMRC). There were several BMW-powered outfits being raced, but he was not over impressed with the performance they were putting out, so needed little persuasion to build his own race motor.
Collaborating with sidecar driver Jon Perkins, he began a development programme based around his experience of tuning road bike engines, but now with the emphasis on producing the extra torque required to haul a sidecar and passenger. This involved new cam profiles, developing a digital ignition system, building a bigger-bore engine - and then developing a heavy duty clutch to handle the extra horsepower.
By the end of that season the Moorespeed engine was reliably developing double the horsepower of the standard 1000cc boxer – and Matt Kingsmill won the CMRC Open Class Championship with a Moorespeed tuned engine.
The following season, Jon Perkins totally dominated the Period 3 Championship with Moorespeed power, but Matt Kingsmill turned his attention to the 750cc class, which traditionally had little support in the UK (though popular in Europe).
With no previous experience of this class to call on, Richard took the bold decision to create a short-stroke engine, using a new 88mm piston based largely on his well-proven short-skirt design, machined a pair of 800cc barrels and had them Nikasil plated. Gas flowed heads, a new cam shaft, and digital ignition were then added to the mix and this resulted in a very healthy 75bhp at the rear wheel - some 10bhp more than the class average. And Matt won the 2011 CMRC 750cc Championship.
Since those early days, Moorespeed engines have continued to dominate Classic Sidecar racing both here and overseas as the following results highlight. Remember, these are CHAMPIONSHIP wins, not just individual races. If the 2017 results look relatively sparse it is because several teams did not contest every round. Moorespeed powered outfits have recorded lap records at virtually every circuit raced upon – some by up to 30 seconds.
Achieving all those wins did not come easy: Richard has invested a huge number of hours both in his workshop and on the dyno to deliver not only race-winning performance, but also great reliability, as his customers can testify. The engines will go a full season with only routine maintenance.
And while it's tempting fate to state this – Moorespeed tuned engines are always the first BMWs home in Classic racing….
---
2017
| | |
| --- | --- |
| CMRC Sidecars P2 750 short stroke | 1. Ian Ashley |
| CMRC Sidecars P3 Open Class | 2. Mike Bellaby |
| Pre-TT Sidecars Race 1 | 1. Vince Biggs |
| Pre-TT Sidecars Race 2 Open | 1. Vince Biggs |
European Championships Sidecars
| | |
| --- | --- |
| Camathius Cup Open Class | 1. Eddy Wright |
| | |
| --- | --- |
| Belgian Championship Sidecars G2. | 1. Eddy Wright |
| Belgian Championship Sidecars G3 | 1. Eddy wright, 2nd Mike Bellaby |
| French Championship Sidecars G3 | 1. Michel Dormal |
2016
Australian Land Speed Record up to 1000cc, twin cylinder, 2v pushrod engine, unfaired:
Josh Schuitt 152mph at Lake Gairdner, Southern Australia
| | |
| --- | --- |
| CMRC Sidecars P1 750 standard stroke | 1. Barry Phethean |
| CMRC Sidecars P2 750 short stroke | 1. Ian Ashley |
| CMRC Sidecars P3 Open Class | 2. Mike Bellaby, 3. Eddy Wright |
| Pre-TT Classic Sidecars P1 | 1. Barry Phethean |
| Pre-TT Classic Sidecars P2 | 1. Ian Ashley |
| Pre-TT Sidecars Race 1 | 1. Eddy Wright (lap record), 2. Vince Biggs |
| Pre-TT Sidecars Race 2 | 1. Vince Biggs, 2. Eddy Wright |
European Championships Sidecars
| | |
| --- | --- |
| Camathius Cup up to 750cc | 1. Barry Phethean |
European Championships Sidecars
| | |
| --- | --- |
| Camathius Cup over750cc | 3. Vince Biggs |
| | |
| --- | --- |
| Belgian Championship Sidecars G2. | 1. Barry Phethean, 2. Eddy Wright |
| Belgian Championship Sidecars G3 | 1. Vince Biggs |
2015
| | |
| --- | --- |
| CMRC Sidecars P2 750 | 1. Ian Ashley (short stroke) |
| CMRC Sidecars P3 Open Class | 1. Jon Perkins, 2. Eddy Wright |
| Pre-TT Classic Sidecars | 1. Eddy Wright (lap record), 3. Wally Saunders |
| Pre-TT Sidecars 1300cc Camathius Cup | 1. Eddy Wright, 3. Wally Saunders |
European Championships Sidecars
| | |
| --- | --- |
| Camathius Cup Open Class | 1. Eddy Wright |
| | |
| --- | --- |
| French Championship Sidecars | 1. Michel Dormal |
2014
| | |
| --- | --- |
| CMRC Sidecars P1 750 | 1. Steve Reilly (std stroke) |
| CMRC Sidecars P2 750 | 1. Jon Perkins (short stroke) |
| Pre-TT Classic Sidecars | 1. Eddy Wright, 2. Wally Saunders |
| Pre-TT Sidecars Camathius Cup | 1. Wally Saunders, 2. Eddy Wright |
| European Championships Sidecars - Camathius Cup 750 Class | 1. Eddy Wright |
| French Championship Sidecars | 1. Michel Dormal |
| Arctic Circle Championship Sidecars | 1. Markus Andersson |
| CMRC Solo Up to 1300cc Twins | 1. John Lovett |
2013
| | |
| --- | --- |
| CMRC Sidecars P1 750 | 1. Terry Foxon (short stroke), 2. Steve Reilly (std stroke), 3. Jon Perkins (short stroke) |
| Pre-TT Classic sidecars | 1. Mike Bellaby |
| Pre-TT Classic sidecars 750 | 1. Brian Toombs |
2012
| | |
| --- | --- |
| CMRC Sidecars P1 750 | 1. Steve Reilly (std stroke) |
| CMRC Sidecars P3 Open Class | 1. Jon Perkins |
2011
| | |
| --- | --- |
| CMRC Sidecars P2 750 | 1. Matt Kingsmill (short stroke) |
| CMRC Sidecars P3 Open Class | 1. Jon Perkins |
2010
| | |
| --- | --- |
| CMRC Sidecars P3 Open Class | 1. Matt Kingsmill |
Jon Perkins and Nancy Detourney
John Lovett
David Crawford and David Baxter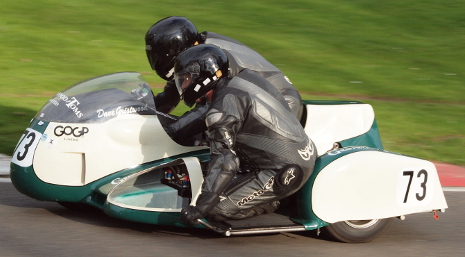 Simon Smith and Dave Gristwood
Steve and Byron Reilly