Moorespeed Yamaha Ténéré products
The products featured here are designed to suit the Yamaha Ténéré 34L, 55W, 1VJ and 3AJ models. Many require specialist skills to fit, and Moorespeed would be happy to quote for any aspect of engine building or tuning you require. We have a great deal of knowledge about these engines, and provide you with a significant power increase matched with reliability.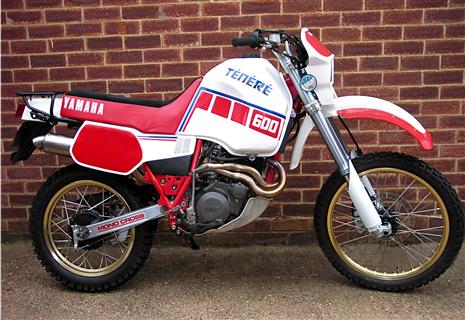 1986 Yamaha XT600 Z1VJ
Converted to 673cc with Stage 3 Moorespeed camshaft, gas-flowed head with standard valves but modified shape, Moorespeed stainless steel big-bore header pipes and Arrow tail pipe. The result is a 40% boost in power – with reliability assured by larger capacity oil cooler, heavy duty main bearings, and strengthened clutch.
The gearbox has REM-treated gears to prevent chipping and extra oil feed. Front forks are upside-down 46mm Paioli/Kayabas, while the rear shock is an extended Wilbers unit giving 265mm wheel travel.
Heavy duty stainless steel wheel spokes have been employed, while the seat has been re-covered with a suede top, and the tank treated to a full set of stickers as per original.